In 2006 Bahrain became the first GCC country to establish a Free Trade Agreement with USA. Since then, the manufacturing and logistics sectors have flourished, with a large number of Fortune 50 companies establishing operations in the Kingdom.
Watch this short video to hear from companies who have moved their operations from the Far East and Europe to Bahrain. Business leaders share their first-hand experience of access to global markets, a welcoming culture and government support.
Bahrain is more than a gateway to the Middle East and North Africa, it is a manufacturing base supported by world class logistics infrastructure. This video is a must-watch for anyone looking to expand or consolidate their international manufacturing or logistics businesses.
Free Whitepaper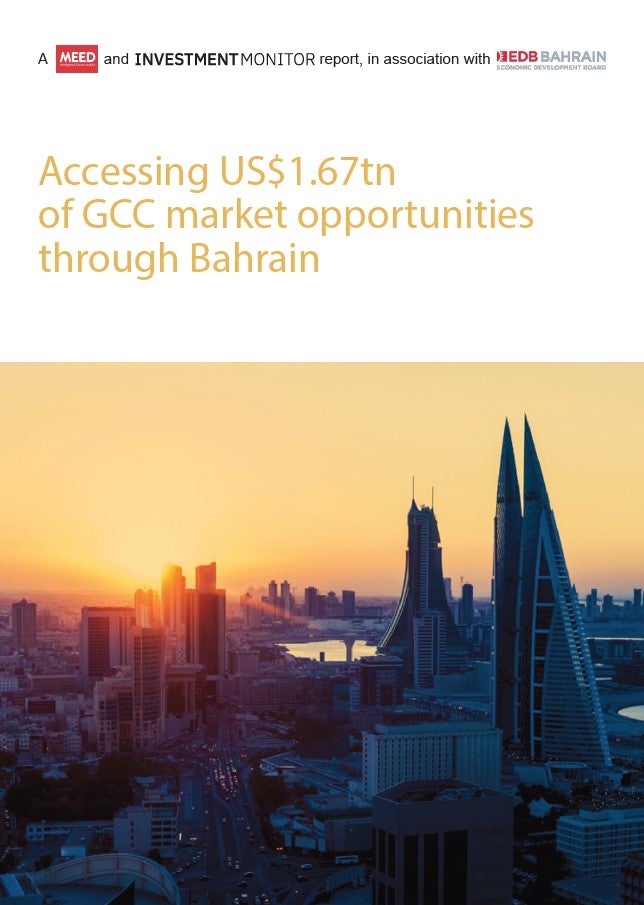 Accessing US$1.67tn of GCC market opportunities through Bahrain
Bahrain's Economic Recovery Plan builds on the Kingdom's strategic location, forward-thinking regulatory approach and existing digital infrastructure to place it at the forefront of innovation in the industries and sectors that are going to change the world – from FinTech to sustainable tourism. This report from MEED and Investment Monitor, in association with EDB Bahrain, explores each of the plan's pillars and programmes to create cross-sector opportunities for investors. It also focuses on how Bahrain is developing state-of-the-art logistics infrastructure and technology, combined with the establishment of new trade zones, to provide new entrants into the country with easy access to markets around the world, allowing them to turbo-charge through the post-pandemic recovery and into the future.
by EDB Bahrain
By clicking the Download Free Whitepaper button, you accept the terms and conditions and acknowledge that your data will be used as described in the EDB Bahrain privacy policy
By downloading this Whitepaper, you acknowledge that we may share your information with our white paper partners/sponsors who may contact you directly with information on their products and services.

Visit our privacy policy for more information about our services, how we may use, process and share your personal data, including information on your rights in respect of your personal data and how you can unsubscribe from future marketing communications. Our services are intended for corporate subscribers and you warrant that the email address submitted is your corporate email address.